Very little is known about Pipe Green, prior to the establishment of the trust in 1793. When and how the inhabitants of Beacon Street acquired ownership of the land is still a bit of a mystery. A reference of 1819 says:
"Pipe Green is said to have been left to the poor widows of Bacon Street, as pasture for their geese."1
However frustratingly, there is no mention of who this person was or when the land was left! The 1791 document owned by the Trust gives a small clue as it states:
"a piece of land called Pipe Green ...... which for time immemorial hath been esteeemed and enjoyed as the property of the inhabitants of Bacon Street"2
So what is "time immemorial"? It is likely that the area covered by Pipe Green originated from early enclosures, some of which were most likely medieval3. In addition it is known that a half-timbered moated medieval house, dating to 1294, existed on the land adjacent to Pipe Green. This site is believed to have been the manorial seat of Thomas de Abbenhall and is now a Scheduled Ancient Monument. Despite being covered in nettles and not particularly obvious from ground level, the moat can clearly be seen from Google maps, as shown on the photo below. It is quite difficult to imagine what the manor would have looked like, but we are lucky that images exist of Handsacre Hall, which is a moated medieval manor of a similar age (and just down the road in Handsacre). Unfortunately, Handsacre Hall was demolished in the 1970s, but an excellant article on this local site is written by Lichfield Lore.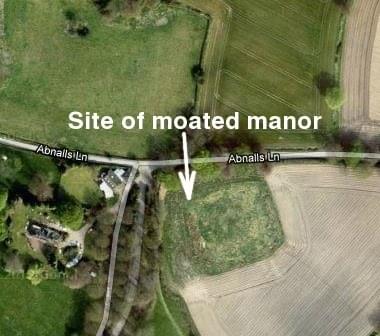 Another intriguing possibility comes from a recently discovered bundle of papers, which contains documents written in 1840-1850 by a solicitor, Mr Hodson, who represented the Trust in the millpond dispute with Thomas Adie of Leomansley Mill. Included in this document are Mr Hodson's case notes, of which there is a small section that states:
"There is a tradition that this land (Pipe Green) was given by the Heveningham family who resided at the ancient seat called Pipe Hall"4.
This is a very exciting find and is the first bit of evidence, albeit circumstantial, of how Beacon Street residents came to own Pipe Green. We know that the Heveningham family lived at Pipe Hall, off Abnalls Lane, (See Historic England) between 1550 and 1690 and were well known in the area for being papists5. Exactly which family member donated the land and when is unknown, although a bit of research on the Hevingham family, may shed some light.
Site of Pipe Hall Manor, now Pipe Hall Farm.
Mr Hodson's case notes then go onto say:
"...and that a quarrel between some of the inhabitants at an Inn, which used to be on Beacon Street called the "Lamb and Flag," all the deeds relating to this land were put into the fire"4.
I think this sentence asks more questions than it answers! However I don't think we will ever find out what the argument was about and how the deeds ended up in the fire - pity as I am sure there is a good story in there!
From A short account of the City and Close of Lichfield. Thomas Lomax, William Jewling (1819) pg 138.
From the 1791 agreement between Pipe Green residents and John Hartwell.
Appendix 3 of Lichfield Historic and Environment Character Zone Assessement
From D15/7/5 1840 - 1850 Hinckley Burns Exham. Inhabitants of Beacon St vs Adie.