December 2012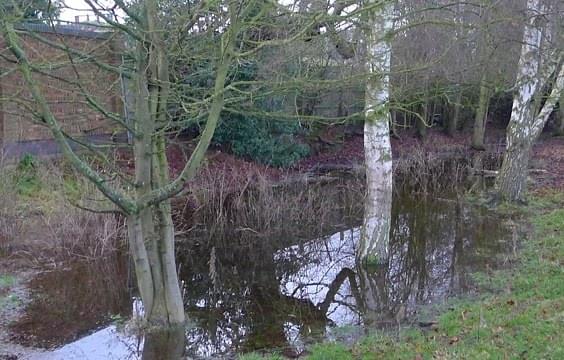 What a soggy end to 2012! I don't think I have ever seen so much standing water on the Green. The stream is flowing well and there is even a small lake appearing by the birch trees near Leomansley house. At least the over-wintering snipe are enjoying the wet conditions.
Looking back over the year, it has been quite challenging for the wildlife. The wet summer most certainly caused a reduction in butterflies numbers and fewer bird species have also been recorded in the last twelve months (60 compared to the normal 70-75). However, despite the wet and cooler conditions, the summer bird visitors (whitethroat, chiffchaff and blackcap) as well as the Green's resident bird species, all seemed to manage to breed successfully. Also on a positive note, we had a good collection of orchids (common spotted, bee and marsh orchids) flowering in June. Perhaps the highlight of the year was the sightings in August of the migrant hawker dragonfly and gypsy cuckoo bumblebee. This was the first time these species had been seen on the Green and they have now been added to the species list at Staffordshire Ecological Records. I would especially like to thank Bob Russon for his invaluable support and willingness to share his amazing photographs with us!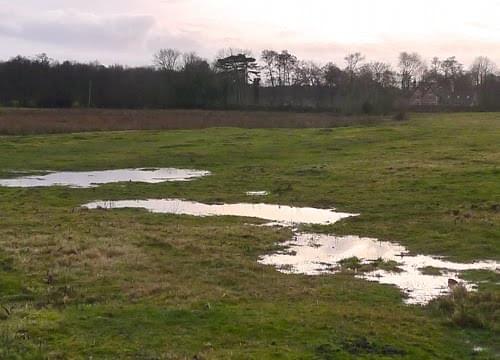 Other news is that the Pipe Green Trust website has just celebrated its first birthday! Over 500 people have visited the website in the last 12 months and viewed over 6000 pages. I hope you have all enjoyed the website and found it interesting. I most certainly have had a fascinating time compiling the monthly diary and have learnt a huge amount. I have even spent time photographing fungi growing on cow pats - but I leave that for another time! I will most certainly be carrying on with the diary in 2013. It just remains for me to wish everyone a happy New Year and why not walk off those Christmas excesses with a visit to Pipe Green?
November 2012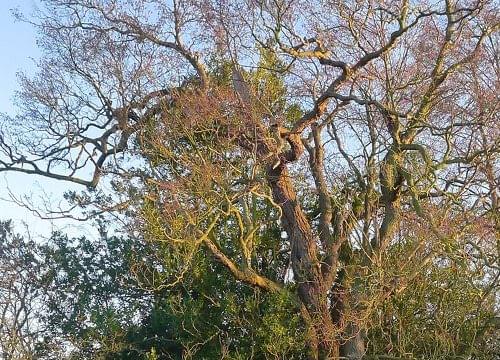 With so much coverage about ash trees and the spread of ash dieback, it set me thinking about how many ash trees have we got and what other tree species are there on and around the Green? Having walked the boundary, I soon realised that, whilst I was familiar with the more common tree species, there are some that I did not know! So, come next Spring, when the trees have their leaves on (and hence more easy to identify) I will set forth, armed with a tree guide, and endeavour to compile a tree list! However, one species which I do recognise, is the alder. There are a number of these trees on the Green, of which this one must be the oldest (see photo). As alder trees like wet soil, they are very happy growing next to Leomansley brook or along the ditches that surround the Green. This specimen is a favourite haunt for many of the resident and wintering finches. The seeds produced by the mature catkins are a valuable food source for these birds in the Autumn and winter months. You can often see goldfinch, greenfinch, chaffinch as well as siskins and redpoll feeding in this tree (see photo below). Just be warned, you will need a good pair of wellingtons to get to the stream!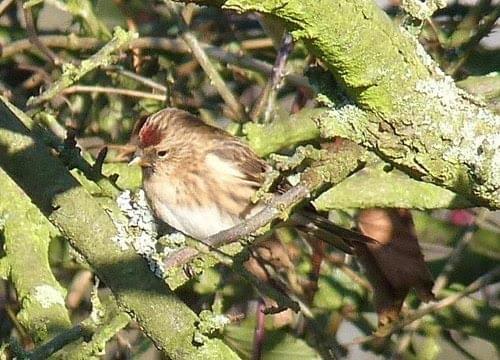 Image courtesy of Bob Russon, Lichfield & District Local RSPB Group
This redpoll was spotted by Bob Russon, earlier on in November. It is quite a rare visitor and so is an excellant sighting. Not only was there one redpoll but it was part of a group of four! It is member of the finch family and has a distinctive red marking on its forehead. Other exciting bird news, which you maybe aware of, is the sighting of waxwings in and around Lichfield. These stunning birds have been seen near Lidl on Eastern Avenue as well as on the Britannia Industrial estate. A pair of waxwings did fly across the Green this week, but unfortunately did not stay. There is no no food for them as the hawthorn berries have already been eaten!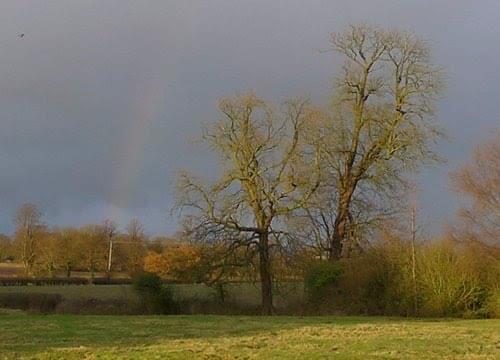 Some excellant articles on Leomansley Mill and Leomansley Brook have recently been posted on the Lichfield Lore blog. Well worth a read and gives a fascinating insight into how industrial the site would have been. A bit different from today! A recent walk around the Green included a sighting of a fox and then a rainbow briefly appearing over Lichfield. Magic!
October 2012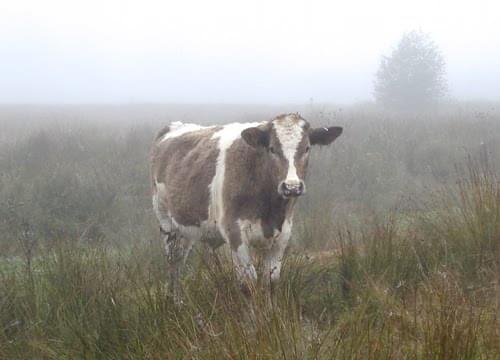 Cattle in the mist! Quite an atmospheric feel as the autumn mist hangs over the Green. The cattle have now been taken off, in accordance with our curent management plan. Interestingly when the Trust was established in 1793, livestock were allowed to stay on the Green until 12th February. I am not sure what they would have eaten, as there must have have been very little food available.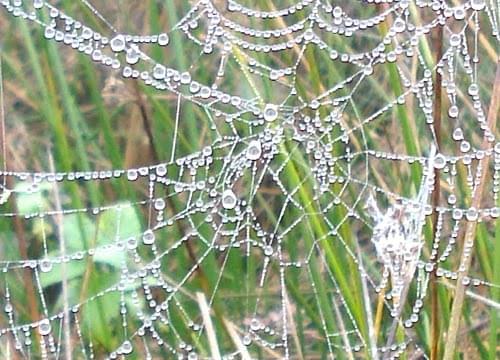 With the morning mists, the spider webs magically become visible. It is amazing to see how many spider webs there are suspended between the stems of the rushes. Not only are there a large number, but also the shape and sizes differ enormously. I am no expert when it comes to spiders, but one that you will see is the large orb-web of the garden spider. This is one of largest spiders in Britain and there are plenty of them on the Green!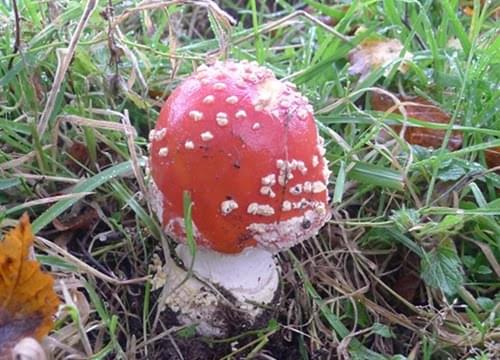 There has been a good display of the fly agaric fungi under the birch trees near Leomansley House. This fungus has a distinctive red cap with a variable number of white spots and is one of the easiest fungi to identify. It is more hallucinogenic than poisonous as it contains a number of chemicals that interfere with neurotransmitter receptors in the brain. Still, I don't think I will put it to the test!.
A few of the winter bird visitors have already arrived including redwings and siskin. The siskin is a delightful little bird that belongs to the finch family and flocks of them can often be seen eating the seeds on the alder trees surrounding the Green. They have a distinctive twittering noise and the sound of them will brighten up a drab winter's day.
September 2012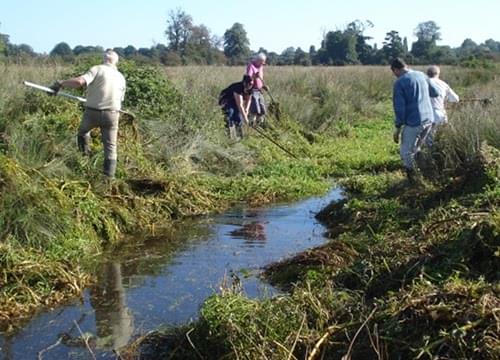 September saw two work parties attempting to clear some of the watercress from Leomansley brook. What hard work it turned out to be! This year, the watercress has grown much more than usual - not only in the amount in the stream, but also the stems are much thicker (and heavier) than in previous years. Consequently quite a lot of effort was needed to lift the watercress out of the stream. Unfortunately we did not clear quite as much as hoped, but we are having an extra work party on 21st October to hopefully clear as far as the bridge. A big thanks to everyone who came along and helped in September and look forward to seeing you all on the 21st!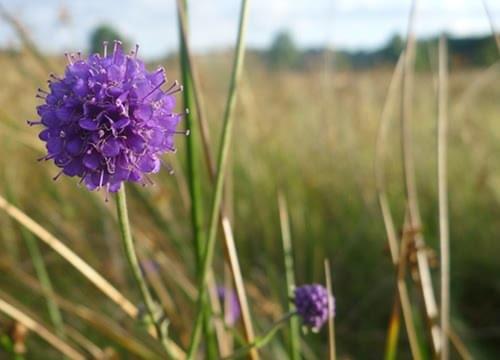 The devils-bit scabious can now be seen flowering on the Green. It likes to grow on damp and marshy ground, so is well suited to the boggier bits of the Green. It is also an important nectar source for late flying insects, as it flowers from July - October. But what a strange name for this attractive plant! A bit of research has enlightened me that the "scabious" comes from the fact that the plant has been used to treat scabies and other skin conditions. The "devils bit" comes from the root being black and short. The devil is supposed to have bitten the root, being angered by the healing properties of this part of the plant. So now you know!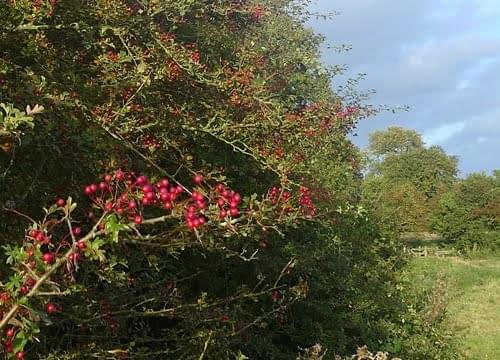 I was walking past the hawthorn trees near the football field gate, admiring the red berries shining in the afternoon sun, when I heard an unusual crackling sound. Wondering what bird this could be, I investigated closer. Suprisingly, it was not a bird at all, but three grey squirrels feeding on the hawthorn berries. Normally I associate squirrels eating acorns and pine cones and it is the first time I have seen them eating hawthorn berries! Unfortunately my camera skills were not good enough to take a picture of them, so you will just have to make do with the berries!
August 2012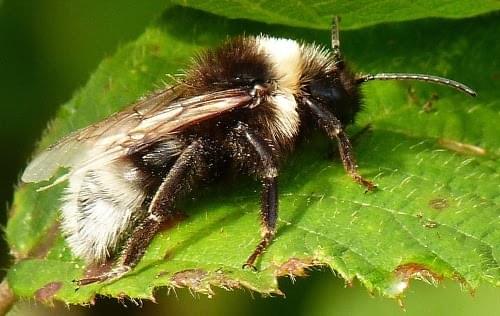 Image courtesy of Bob Russon, Lichfield & District Local RSPB Group
Did you know that there was a bumblebee called a gypsy cuckoo bumblebee (Bombus bohemicus) and if you are lucky you might be able to see one on Pipe Green? We are very fortunate that Bob Russon managed to photograph one (see photo on right) and have it positively identified by the Bumblebee Conservation Trust. Cuckoo bumblebees are so called as the adult female will lay her eggs in the nest of other bumblebee species. Once hatched, the worker bumblebees will raise the cuckoo bumblebee young, without realising that they are a different species. This is the first time that this species has been recorded on the Green, so thanks to Bob for his efforts.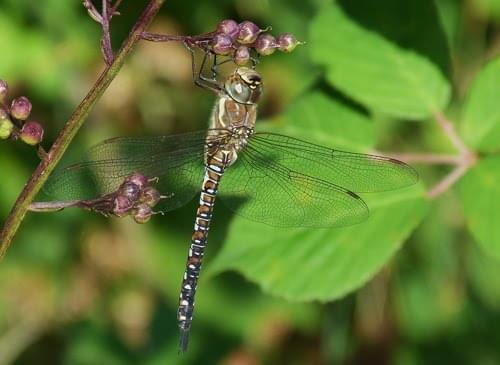 Image courtesy of Bob Russon, Lichfield & District Local RSPB Group
With the warmer weather in August, the dragonflies have been more active and visible. Again thanks to Bob Russon for taking this stunning photograph of what is thought to be a migrant hawker dragonfly. The migrant hawker is often seen in late summer to autumn and even into November. It is common in the south of England but is increasing its range northwards.
Another dragonfly that you might see is the common southern hawker. This is one of the more common dragonflies in the UK and also one of the most inquisitive. So if a dragonfly flies right up to you, then it is likely to be a southern hawker!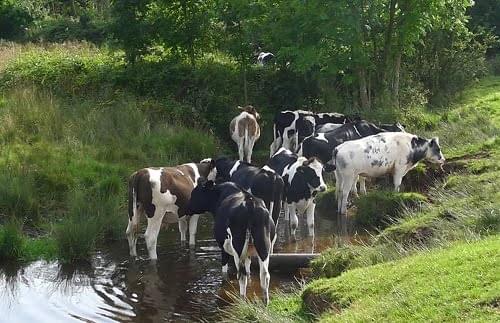 The cattle are also doing well at the moment and enjoying a drink and paddle in the stream. There is still quite a lot of grazing for them, so they should be on the Green until October.
The summer warblers have finished breeding and have now left. The buzzards are a common site at moment, with at least three or four circling overhead at one time. A peregrine falcon joined them for a short while the other day, so keep your eyes open for this magnificent bird. I understand that the peregrines nest at Rugeley power station, so there maybe a good chance of spotting one overhead, whilst walking on the Green.
Two work parties have been scheduled for the 9th and 16th September (9.00 - 11.00) to try and clear some of the watercress from the stream. This year the watercress is growing in profusion and so it may take a bit of effort to remove it. Any volunteer's welcome. Just bring along a rake/three pronged hoe and a pair of wellies!
July 2012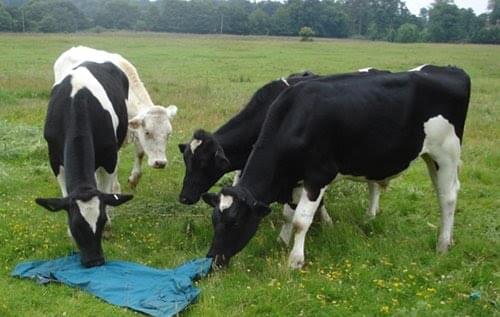 At the beginning of July we had two work parties to clear some of the creeping thistle that is growing well this year. The work parties were well attended and we managed to clear quite a large area. The cattle were very curious about what we were doing and came to inspect and seemed very interested in our bags and coats! Whilst these were not edible they soon started to eat the long grass in between where the thistles had been. Presumably this previously inaccessible grass tasted good! Thanks to everyone who came on the work party and helped tackle the thistle.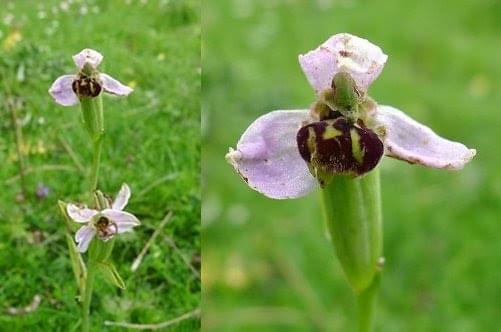 Whilst clearing the thistle we came across some bee orchids that were still flowering, although a bit past their best. These orchids are so called because the flower looks like the body of a female bee. A male bee is attracted to the flower and tries to mate with it and in doing so pollinates the flower. However, it seems that in the UK, we do not have the right type of bee and the flowers instead self-pollinate. The seed that is produced can be dispersed over a large distance (kilometres) which is why bee orchids suddenly appear in an area. There is a fascinating story of how the seeds of bee orchids and orchids in general, rely on symbiotic fungi in the soil to develop - but I am afraid I need to read up on this!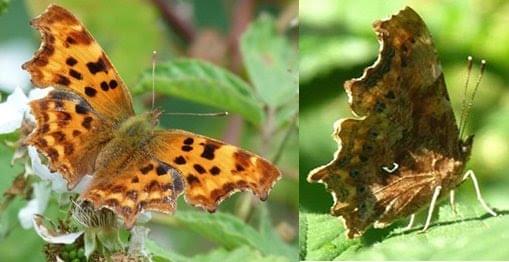 Image courtesy of Bob Russon, Lichfield & District Local RSPB Group
The warmer and sunnier weather we had for some of July allowed the butterflies to be more visible. One of the species that you might see is the comma butterfly (see photo). This is mainly found in woodland but feeds on nectar sources such as bramble and nettle and so can often be found on the edges of woodland (as well as in gardens). This species is so called as when the wings are closed, a white mark is visible, which resembles a comma (see photo on right). This butterfly is also well camouflaged. Its jagged wings, when closed, look like a leaf, which give it excellant protection if it is resting against a trunk of a tree. Other butterfly species that have recently been seen include gatekeeper, small skipper, small copper and a speckled wood. So it is definitely worth while keeping a watchful eye out for some of these lovely butterflies next time you are on the Green (and the sun is shining!). Brown hawker dragonfly can also be spotted near the stream. Thanks to Bob Russon for the up-dates!
June 2012
I was walking on the Green at the weekend and came across a patch of stinging nettles that was covered with black spiky caterpillars (see photo). After watching them for a few minutes and taking some photographs, I then set about trying to ID them. A quick search on the internet revealed that these are the caterpillars of the Peacock butterfly. This is a very interesting species, as unlike most butterflies, it hibernates over the winter and can often be found in garden sheds or amongst leaf litter during these months. Given the large number of caterpillars feeding, it is quite likely that in a few weeks time these attractive butterflies will be flitting about on the Green. Thistles are an important nectar source for the adult forms, so there should be plenty of food available for them! It also just reinforces that nettles and thistles are an important food source for some invertebrate species and it is desirable to have some (but not too many!) growing in the vicinity.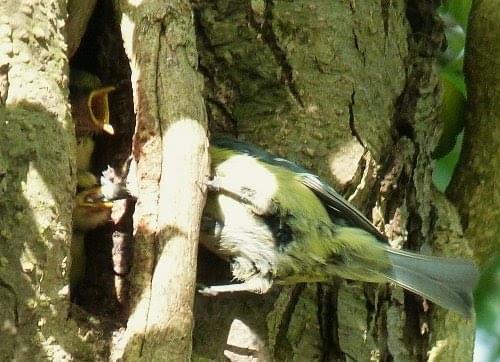 Image courtesy of Bob Russon, Lichfield & District Local RSPB Group
The birds are continuing to successfully breed. Bob Russon managed to take this delightful photo of a blue tit feeding its young near Leomansley pools. The swallows, swifts and house martins have now all arrived and can frequently be seen skimming across the Green in search of insects. Reed buntings have also been active in the area and it seems as though a pair of lapwings were trying nest in the field adjacent to the Green.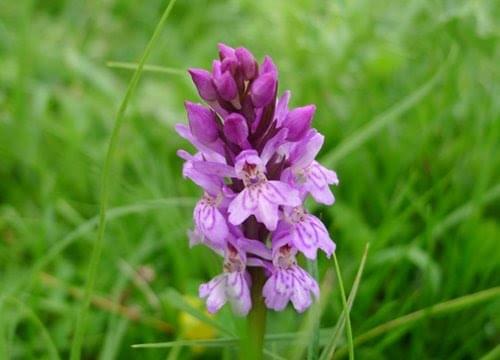 The orchids have been flowering since the beginning of the month and to date I have found 6 common spotted orchids (see photo) as well as a number of early purple orchids. However on my last visit I could not find them and suspect that the cattle may have eaten or squashed the flowers! The bird's foot trefoil is now flowering on the dryer parts of the Green and giving the impression of a yellow carpet. This is an important food source for many butterfly and moth species.
The creeping thistle is also growing well and we have a couple of work parties scheduled (8th and 15th July, 9.00 – 11.00) to cut the thistle in an attempt to control it, as it is a very invasive species . Anybody who would like to come and chop some creeping thistle is most welcome!
May 2012
Those of you who are regular visitors, will be aware that fourteen bullocks have now been turned onto the Green. They seem to have settled down, after an initial inquisitive phase, and are eating well. The grass has finally started to grow and so hopefully there will be plenty of food for them to eat. Just please be a bit careful if you are walking your dog near them, and try not to disturb them too much.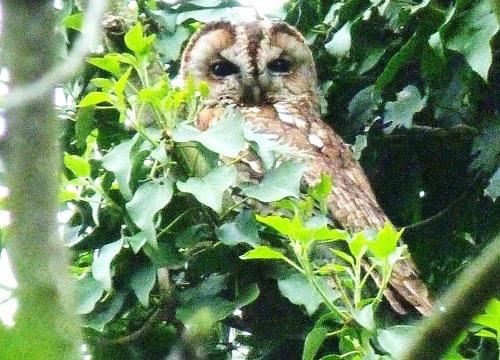 Image courtesy of Bob Russon, Lichfield & District Local RSPB Group
Following on from Bob Russon's fascinating talk about the birds of Pipe Green in early May, he very kindly offered to lead a walk to see and hear some of the birds that he had talked about. Despite the rather chilly weather, an intrepid group set off to discover the birdlife of Pipe Green. We were not disappointed and under Bob's expert guidance managed to see a number of different species including a beautiful male yellowhammer, blackcap, whitethroat, chiffchaff and a kestrel hunting over the Green. However the highlight of the walk was seeing a tawny owl sitting quietly amongst some ivy in Leomansley woods. We spent a considerable time watching the owl, who in turn was watching us! Bob returned later on in the day and took this lovely photograph. The owl however does seem to have moved elsewhere but hopefully is still in the area. What an amazing sight and something that most of us had never seen before. Thank you Bob!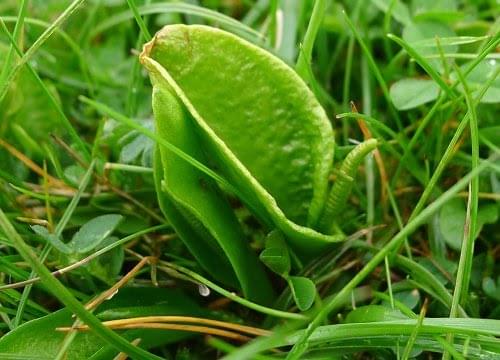 The Green is looking much more as though summer might be on its way. The buttercup, speedwell and pignut are all flowering well and make a lovely sight (when the sun is shining!). A more elusive plant that is also growing on the Green is the adder's tongue fern. Whilst it might not look it, this little plant is actually a fern and is quite difficult to find, mainly because of its size and that it is green! This plant is quite rare in Staffordshire and is an indicator species of ancient meadowland. It is so called because the central spike (containing reproductive spores) apparently looks like a snake's tongue and because of this could be used as an antidote to snake bites! I am not sure that I would put this to the test!
On a slightly negative note, with the warmer weather approaching (well maybe not this weekend) the Green is likely to have its fair share of anti-social behaviour. This generally involves excessive drinking and leaving litter/bottles lying around. Often the early morning dog walkers pick up quite a lot of this rubbish, but if you do see anything could you please contact us and let us know.
April 2012
Maybe I should not have said in the March diary that the Green was looking dry and we needed some rain!! Well, we certainly have had some this month but it is fair to say that the Green is looking a lot better for it! The grass, however is still slow to grow, which means that the cows will only be turned onto the Green later on in May. The bluebells in Leomansley woods have also struggled a bit with the cold wet spell we have just had. They started to flower in mid-April but they have not yet formed their usual blue carpet across the woods. Still, as shown in the photo above, they are still a lovely sight and worth a visit.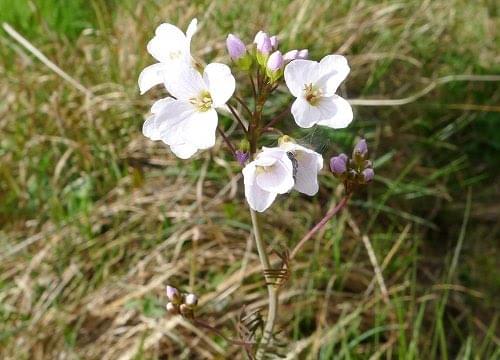 One plant that has benefitted from the recent rain, is the cuckooflower (also known as lady's smock or May flower). This plant is so called because it flowers at about the same time as the first cuckoo is heard i.e. April/May. It grows in profusion in the damper area of the Green and its white/purple flowers can clearly be seen amongst the reeds (see photo on right). It is a very important food source for the larvae of the orange-tip and the green-veined white butterflies. Its nectar is also important food for the adult forms of these butterflies. On a sunny day (if you can remember what they are!) you can easily see a number of orange-tips flitting about on the Green.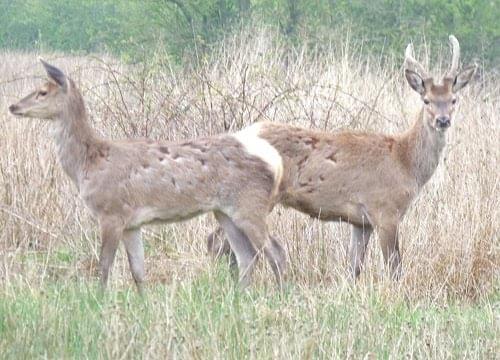 Image courtesy of Bob Russon, Lichfield & District Local RSPB Group
Rare visitors were also spotted on the Green this week (see photo) - it is not often we get red deer! These are a pair of immature red deer and were spotted in the area (including Beacon park golf course) by a number of people. You can see that their coats are starting to moult. They are not escapees from Maple Hayes, but most likely have wondered into the area possibly from Cuckoo Bank/Chasewater area, where they are quite common.
The birds are also doing well. More summer visitors including willow warblers and whitethroats have arrived and can now be heard (if not seen!) on the Green. A pair of kestrals are also regularly seen hovering over the reeds looking for field voles or mice; hopefully they are nesting nearby.
The farmer will be putting 12-15 cattle on the Green in a few weeks time, so just be careful, especially if you are walking your dog. They can very frisky and inquisitive when they first arrive!
---
PS. I later heard that one of the deer had unfortunately been killed in a collision with a car on the bypass near the Abnalls lane junction. No news on the driver, but the car was badly damaged. A very sad, but not surprising ending.
March 2012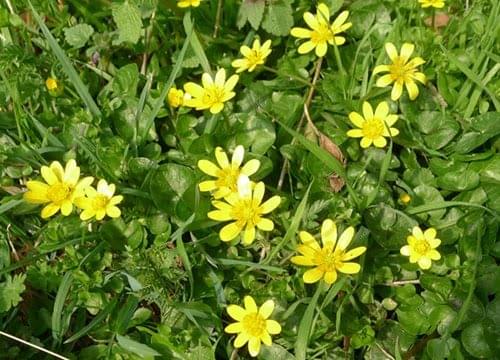 March saw the full arrival of Spring, with some lovely warm weather. The Green became alive with birdsong and the bright yellow flowers of the lesser celandine (see photo on right). Lesser celandine is one of the first flowers of spring and belongs to the buttercup family (ranunculus). It prefers damp conditions and so can be found growing in the ditches surrounding the Green and under the trees near Leomansley House. It is also referred to as pilewort, as it can be used to treat haemarrhoids! If you look carefully near the gate by the football fields, you can also see some red dead nettle growing amongst the celandine. The red dead nettle (member of the mint family by the way and not related to stinging nettles!) is an important early nectar source for bumble bees. I counted at least 10 bumble bees foraging for nectar in this area. I did try to photograph them, but failed miserably, despite a number of attempts and strange looks from passers by!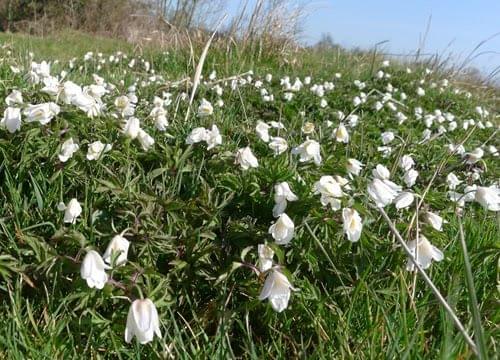 A small patch of wood anemone is also just starting to flower on a damp patch of ground near the Leomansley House end of the Green (photo on right). This beautiful plant is more normally associated with ancient woodland but will grow in the open on water logged soil. More of this delicate plant can be found in Leomansely wood and further afield, there is a magnificent display in Hopwas woods (near the canal). The wood anemone is also referred to as the windflower, because Pliny (the Greek writer) incorrectly thought the flowers would only open if the wind was blowing. This is not the case; instead they require the sun, so maybe it should be called the sunflower!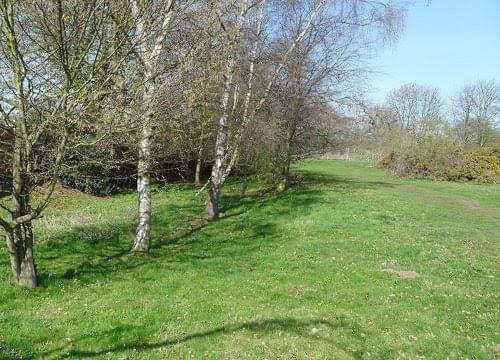 The birds are also very active on the Green, with much singing and competition for nesting sites. The chiffchaff can be clearly heard , with its distinctive call. This little bird is a member of the warbler family and is one of the first summer visitors to the Green. It is thought that there are currently three male chiffchaffs singing. Hopefully they will all establish nesting sites and successfully breed this summer.
The Green, however, is much drier than normal for this time of year and some of the perimeter ditches have little or no water in them. Let us hope that we will soon get some rain and the grass can then start growing.
February 2012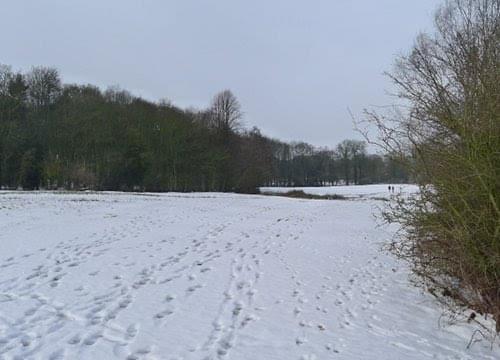 What a month of contrasting weather! February started with temperatures well below freezing and it felt as though winter had finally arrived. The ground was frozen with icy conditions underfoot and daytime temperatures struggled to get above freezing. Spare a thought for the wildlife trying to cope in such conditions. This cold weather culminated with the first snow of 2012 and gave rise to some very wintery, but beautiful, scenes of the Green.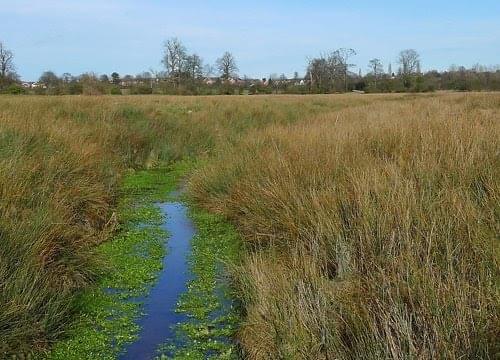 The snow did not last for long and by the end of the month we were basking in temperatures in the mid-teens and a feeling that spring was imminent. The wildlife on the Green was also showing signs that spring was fast approaching. Our winter bird visitors, including redwing, fieldfare and siskin have now left the Green and most likely have started their northwards journey back to their breeding grounds in Scandinavia.
The buzzards have frequently been seen displaying over the Green. Three or more can be seen at any one time, soaring overhead whilst making their distinctive mewing call. A kingfisher has also been a regular visitor in February on the pools near Leomansley House. Whether it will stay in the area, remains to be seen.
We can now look forward to the arrival of the summer bird migrants. So keep your ears open for the distinctive call of the chiffchaff, which will hopefully arrive on the Green at the end of March. I also saw my first bumblebee of the Green last week, so maybe spring is not so far away!
January 2012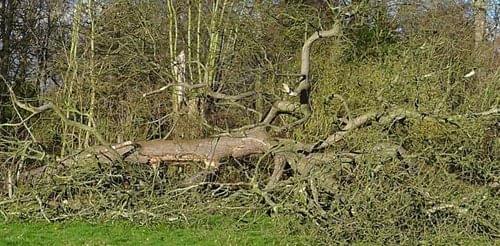 A warm start to 2012, feeling more like spring than winter! Even the birds were fooled and a great spotted woodpecker could be heard drumming on one of the trees surrounding the Green. Woodpeckers can frequently be heard drumming in spring as they use it to establish a territory and to attract a mate.
There were some strong winds later on in the month, which caused two trees to be blown over. One large tree fell onto the Green from the Maple Hayes estate, near the Abnalls Lane entrance. This caused some damage to the fence but fortunately no other harm. Dr Neville Brown from the Maple Hayes Estate organised for the tree to be removed and the fence repaired. So thanks to him for sorting this out so promptly!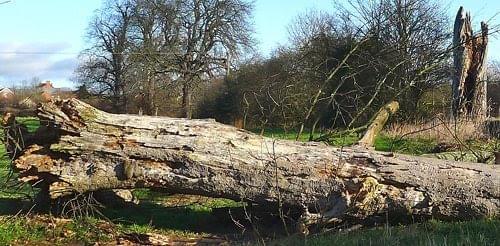 The other tree fell across the path leading to the Green from the football field entrance. Whilst this tree had been dead for a number of years, its hollow trunk has been a regular nesting site for birds. A few years ago, a lesser spotted woodpecker successfully nested in the trunk of this tree and more recently, tree sparrows took over. Lesser spotted woodpeckers are very rare in the area and across the UK generally, whilst tree sparrow numbers have declined enormously in recent years. Lets hope they can find a suitable nesting site elsewhere near the Green for this year!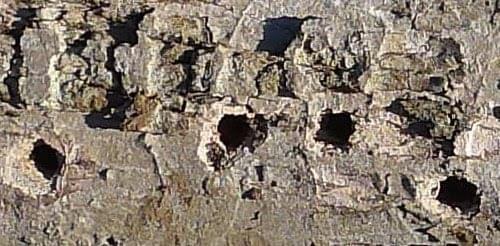 Many insects have lived in the decaying bark and wood of this tree and these in turn will be a food source for birds such as woodpeckers. You can see in the photograph, holes where a woodpecker has drilled into the bark looking for such insects. It just emphasises the importance of the trees (dead or alive) in providing food and nesting sites for birds!