Getting Involved: Receiving information about Pipe Green and volunteering
If Pipe Green is a place that you value, then you may want to get more involved in supporting us. You can do this in a number of ways ranging from simply being on our mailing list, and so receive regular updates from us, to being more active and volunteering for one of our work parties. You do not have to be a member of the Pipe Green Trust in order to get involved, so anybody who is interested is welcome!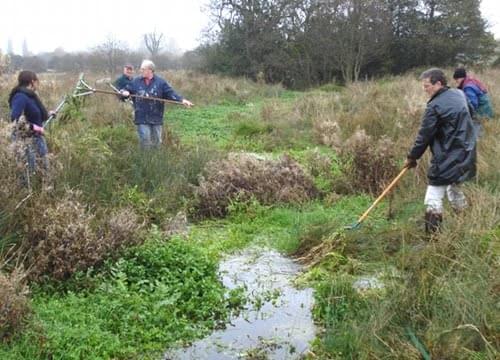 Mailing list: If you fill out the form on this page, we will be able to send you regular updates by email about what is happening on the Green as well as keep you informed of any social events and meetings that are taking place. We would also love to hear from you if you spot any interesting wildlife sightings on the Green.
Work parties: The Trust relies heavily on volunteers to help out on our work parties, which we hold on the first Sunday of the month (9.30-11.30) between May and October. Jobs include cutting back creeping thistle, ragwort and willow herb as well as clearing excess vegetation from Leomansley brook. The work parties are an essential part of our management plan and so we do need volunteers. The work parties are also great fun as you get to meet a friendly group of like-minded people and at the same time help maintain this valuable habitat. If you are interested in volunteering, then please fill out the form on this page and we will get in touch with you concerning the dates of the work parties.