The aim of the Trust is to conserve this valuable meadowland habitat and to improve the biodiversity of the Green. To help achieve this Pipe Green, since 2006, has received funding from DEFRA under the Higher Level Stewardship scheme for maintaining a species-rich, semi-natural grassland (meadows or pasture). The main points of the management plan are: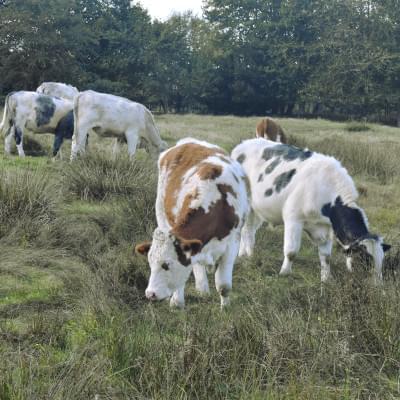 cattle grazing – This is the most important factor in maintaining the meadowland habitat. The cattle control the grasses that would otherwise dominate whilst allowing the wild flowers to proliferate. They also trample small thistle and form gaps in the vegetation that allow seedlings to grow. The cow pats are also important for invertebrate life and allow nutrients to be fed back into the soil. This is why, if you visit the Green between May and October, you will see 12 - 18 cattle happily grazing.
control of undesirable species – Creeping thistle as well as ragwort, common nettle and Himalayan balsam are the main undesirable species found on the Green. To control these, a number of work parties are held to manually remove these species. In addition, the Green is usually mechanically cut in late July to stimulate new growth of grasses.
no application of artificial fertilizer – No artifical fertilizers must be applied to the Green and the soil should have a Soil Phosphate Index of 0 or 1.