December 2019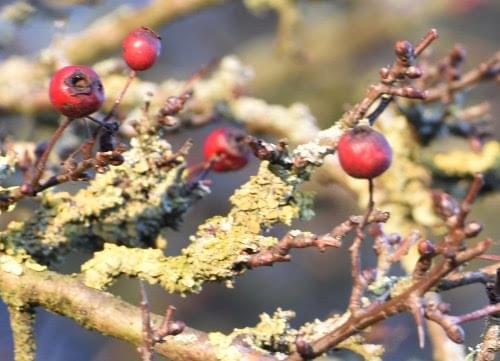 It has certainly been a warm and wet December, with the result that the Green has become a bit muddy in places. Nevertheless, on a positive note, Leomansley brook is now quite full, which is good to see! Due to the warm weather, there are still some hawthorn berries on the bushes, so at least the birds have some food, if we get a cold snap. I was comparing this post with the December 2017 post, where the Green looked a bit different!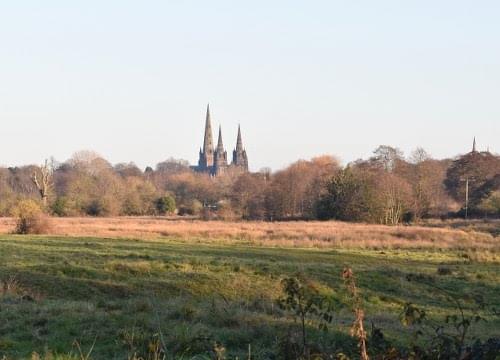 Finally, just to thank you for your continued support over the year and I hope you continue to enjoy the Green in 2020. I love this view of the cathedral from the Green, plus you can also see the spires of St Mary's and St Michael's (just!) Happy New Year everyone!
November 2019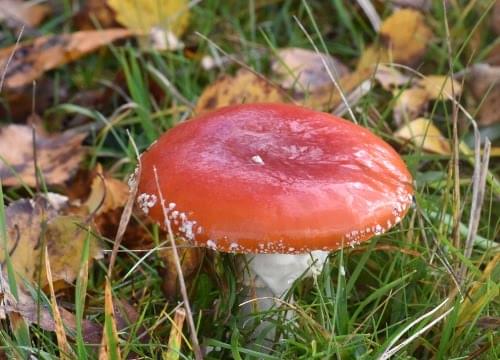 Apart from the waxcap mushrooms,we also have some other species growing on the Green, and so I was really pleased to see this fly agaric mushroom growing underneath a birch tree. On a closer inspection, however, I noticed that it hardly had any of the typical white spots on it - normally they look more like this. After a bit of search on the internet, it turns out the white spots are in fact scales and these can be washed off after heavy rain. So given how wet it has been this month, I guess the spots got washed off in the rain!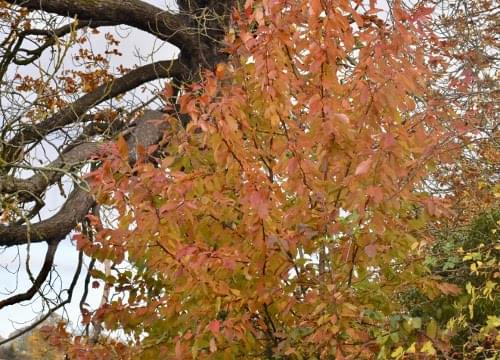 The autumn colours have also been quite good this year and I noticed this cherry tree putting on a lovely red/orange display. Whilst these trees are more renowned for their spring blossom, they nevertheless look pretty good in the Autumn as well.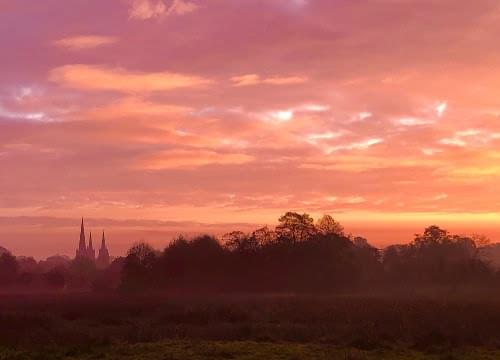 Image courtesy of Wildlife Kate.
Just to finish this post with a beautiful sunrise taken by Wildlife Kate, earlier on in the month. It is absolutely stunning and it makes it worthwhile to get up early and go over to the Green!
October 2019
Well, October has definitely been the month of the mushrooms! With the warmish and damp weather the mushrooms, especially the waxcaps have put on an excellent display. These beautiful waxcaps are an important grassland species and we are very lucky to have a number of different ones growing on the Green. Here is just a selection of some of the (many!) photos that I took of these little gems!
September 2019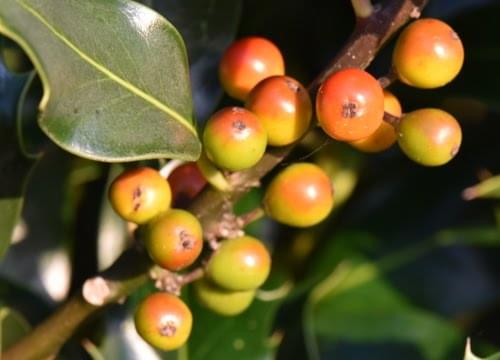 Autumn is definitely starting to make an appearance this month. These holly berries are starting to ripen in the September sunshine and will soon be the bright red berries that we know so well. These berries are an important food source for birds in the winter, including blackbird, thrushes and redwings. Of course, they also make lovely Xmas decorations as well!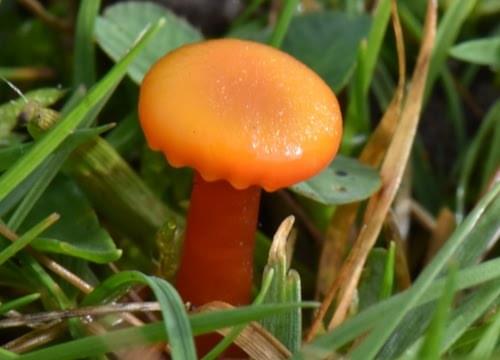 The warm(ish) and wet weather that we have had this month, has been ideal for the fungi and we have already had a lot of parasol and puffballs on the Green. I am also delighted to see that some of the lovely waxcaps are starting to make an appearance. I am a bit obsessed with these mushrooms, so look out for loads more pictures on our facebook page!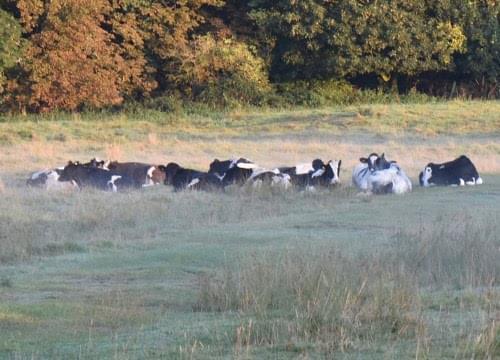 The cattle are still on the Green, but will be going off in the next few weeks. They have done an excellent job grazing the Green and have been a very friendly lot and I will be sorry to see them go. They looked very content the other morning in the early morning sun.
August 2019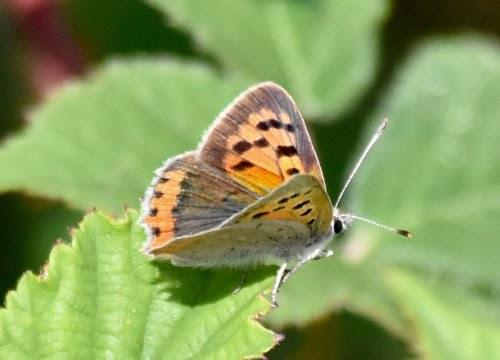 I finally managed to get round to doing a Big Butterfly count in early August on a lovely sunny day without much wind. I was pleased to see 8 different species and a total of 31 butterflies, with the meadow browns being the most common. Most of these species are typical of a grassland habitat and it shows that the Green has lots of food for them. The list is: small copper x2(photo) meadow brown x10, gatekeeper x4, small white x6, great white x2, small skipper x3, speckled wood x3 and peacock x1. More photos of the butterflies can be found on our facebook page.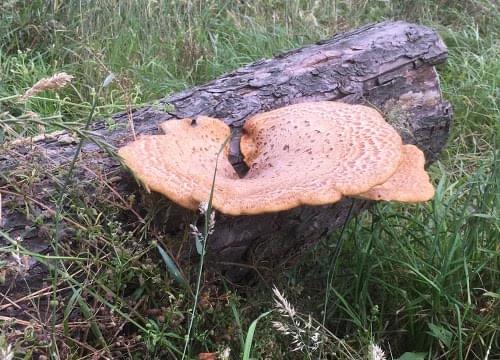 Some of the fungi have made the most of the warm wet weather this month and have started to appear. These include the parasol mushrooms on the Green, but I was very impressed to see this enormous bracket fungus growing on a dead tree trunk on the path going towards the football fields. It must have been over 15 inches big!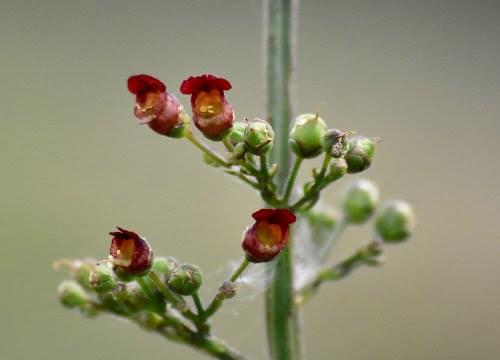 A plant that is quite common on the damp side of the Green, but is often overlooked, is water figwort. It grows to at least 1m tall and has some very small flowers which on a closer inspection are actually quite lovely.These maroon-coloured flowers are less than 0.5cm big, so you have to get quite close up to appreciate them! Just shows, that size doesn't count!
Finally we will be having our September work party on Sunday the 15th September, where we will start to clear the brook. Hope to see you there!
July 2019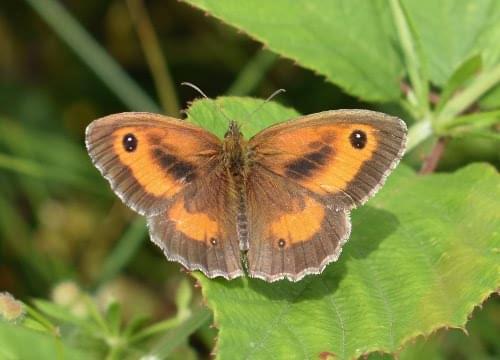 July has certainly seen some of the hottest as well as some of the wettest weather! I was hoping to have done the Big Butterfly count by now and report to you my findings. However, with the weather taking a turn for the worst last week, I am afraid have not got round to doing it. However, Wildlife Kate has done a count on the Green and in the 15 minutes allowed for the survey, she saw 29 butterflies and 6 species (4 X large whites, 4 X small whites, 4 X gatekeeper, 11 X meadow brown, 4 X ringlet and 3 X speckled wood). So quite an impressive number!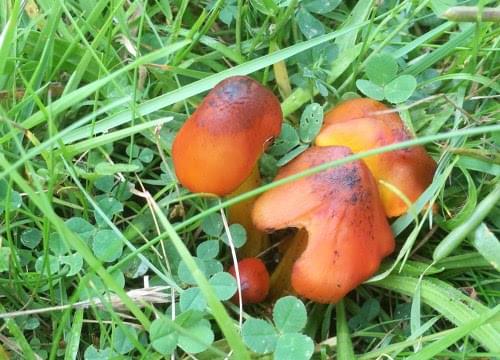 Now something I wasn't expecting to see on the Green at this time of year is a blackening waxcap mushroom. These are normally found late October/November but I think to due to the wet weather we have had, some are fruiting now. They are also known as the witch's hat waxcap - partly due to their conical, witch hat, shape plus the fact they turn black as they age and usually appear around Halloween!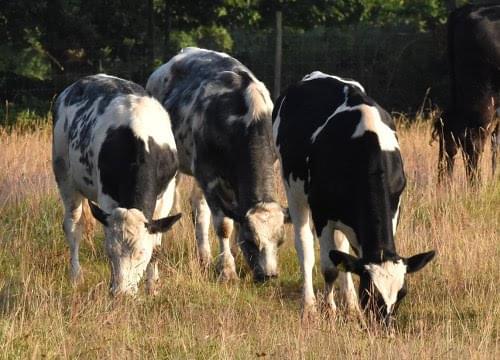 The cattle are doing well and with all the rain the grass is growing well and so there is plenty for them to eat. We are having another work party this Sunday (4th August) from 9.30ish for a couple of hours. We will be carrying on tackling the willow herb on the wet part of the Green. I am pleased with the progress we have made and you can definitely see where the work has been done. Hopefully see you on Sunday!
June 2019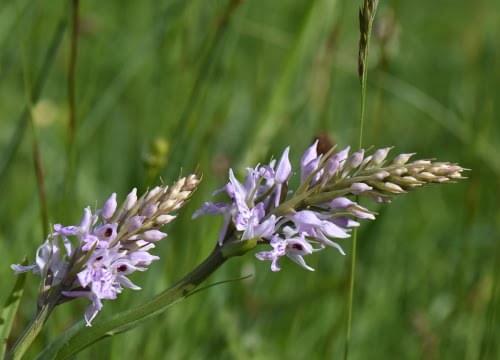 At the beginning of the month, the orchids were putting on a lovely display. We had over 100 southern marsh orchids flowering as well as some common spotted orchids and 12 bee orchids.The cattle then arrived in the first week of June and whilst they initially left the orchids alone, they managed to graze many of the flower heads over the next 2 weeks. We did try putting up some temporary fencing to try and protect the orchids, but unfortunately, it was not enough of a deterrent. On a positive note, there are still about 50 orchids flowering on the wetter part of the green and the orchids are spreading - so all is not lost. I am planning to get some stronger fencing in place for next year!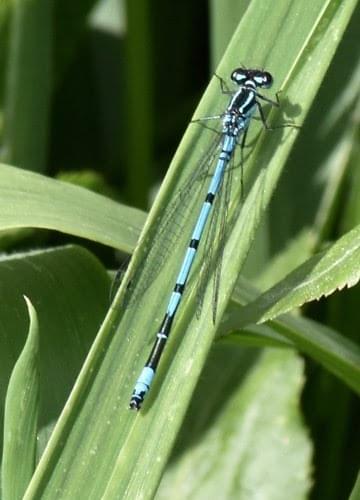 The invertebrates are also becoming a lot more visible in the warmer weather. There are quite a few butterflies and moths flying at teh moment. The damselflies are also about and I managed to get a photo of a common blue damselfly, which obligingly sat still for a few seconds. Seemingly there are 20 species of damselflies in the UK, so I need to keep a look out for the other 19 species! And there was I thinking there were only blue ones and red ones!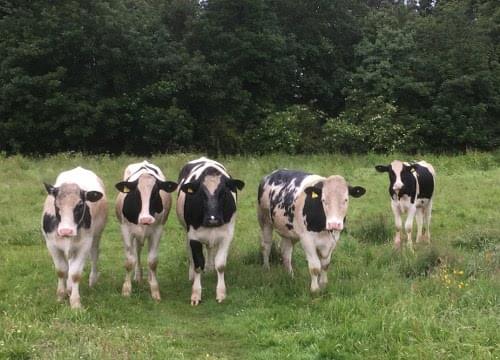 As I said, the cattle are now on the Green and are a fairly friendly lot. The one with the white face quite likes to have his head scratched! They do a wonderful job in keeping the grasses down and are a vital part of our management plan - even if they do eat some of the orchids!
There will be another work party on Sunday 14th July (9.30ish - 11.30ish). We will again be tackling some of the willow herb that is growing on the damper side of the Green, as well as some of the dock near the back path (before the seed sets). All are welcome to attend!
May 2019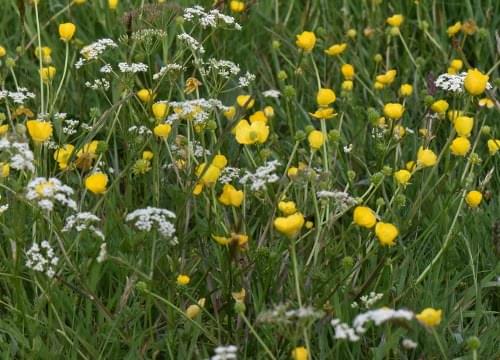 The Green has suddenly sprung into life in the last few weeks and it is looking glorious. There are swathes of pignut and buttercup across the grassland area turning it into a sea of white and yellow. It is well worth a visit!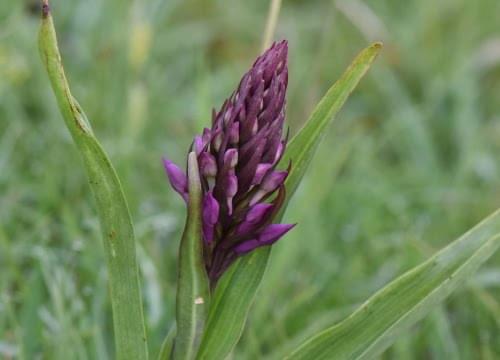 The orchids have finally decided to start flowering. They have taken their time this year, but I think the cooler weather earlier on in the month has slowed them down a bit. It looks as though we are going to get yet another good display of both the common spotted orchid as well as the southern marsh orchid. Keep a look out on our facebook page for more orchid news!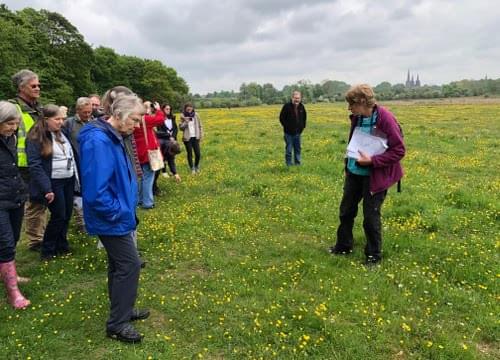 Image courtesy of Wildlife Kate
We had a very successful walk on the 18th May, where over 30 people from Lichfield Wildlife Group came to hear more about Pipe Green and what it has to offer. This enthusiastic group were very keen to see the adder tongue fern, as well as where the orchids were growing. The buttercup and pignut put on a good display and we saw and heard over 26 species of bird, including a very noisy sedge warbler and a number of reed bunting. A very enjoyable time was had by all.
On another note, the monthly work parties will be starting on Sunday 2nd June. The dates of all the work parties can be found here. They start at 9.30 (or there abouts) and last for a couple of hours. For this first work party , we will be tackling some of the willow herb that is starting to grow in the damper side of the Green. All are welcome to attend. I will bring some sickles along, although it is generally fairly easy to pull by hand.
April 2019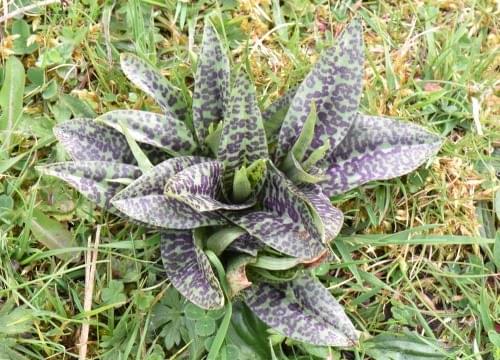 April has certainly been a busy month on the Green. The birds are singing loudly and whitethroats, chiffchaffs, thrushes and reed buntings (to name but a few) can all be heard. I was thrilled the other morning to hear and see a sedge warbler, amongst the rush. This is a rare vistior to the Green and hopefully it will stay and breed over the summer. The plants are also growing well and fortunately don't seem to have been affected by last year's dry weather. The adder tongue fern is starting to appear as are the common spotted orchids - they have certainly got very spotty leaves this year!.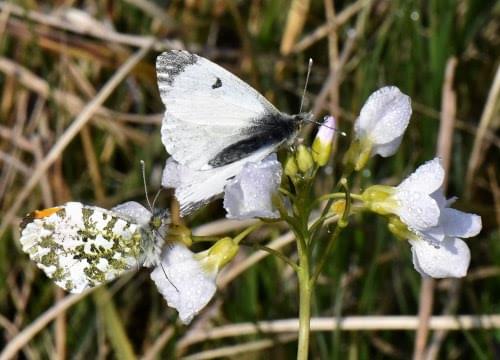 There is a lot of the lilac-coloured ladies smock flowering on the damper side of the Green and you can usually see orange tip butterflies flitting from plant to plant. I was pleased to get a photo of a male orange tip (with his wonderful mottle green underwings) and a female (who does not have any orange tips to her wings) sitting on a ladies smock plant. They will be mating at this time of year, after which the female lays her eggs on the ladies smock and the eggs, in turn, will develop into caterpillars. The caterpillars will then feed off the ladies smock, before developing into pupa. I don't know if this photo, was pre or post mating, but I think I did disturb them as they both flew off!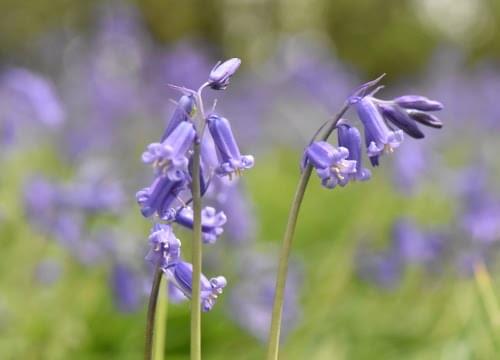 After giving a very well received talk to the Lichfield Wildlife Group in early April, I am now looking forward to leading a walk on the Green (18th May at 10.30 from the Football field car park - all welcome). Hopefully the orchids and the other plants and wildlife will be putting on a good show! Finally, the bluebells in Leomansley woods are looking lovely at the moment, but they will soon be fading, so I would recommend seeing them sooner, rather than later.
March 2019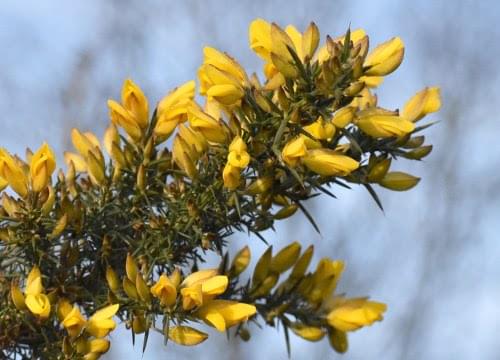 I managed a (fairly) early morning walk on the Green this week and it was so peaceful and tranquil and was certainly worth the effort. We have a couple of gorse bushes on the Green which are now flowering, with their easily identifiable bright yellow flowers. This spiky shrub is a member of the pea family and whilst common, should not be underestimated. It provides shelter and nesting places for a number of small birds, food for many invertebrates and in the past has been used as fodder for animals. A very useful plant to have on the Green!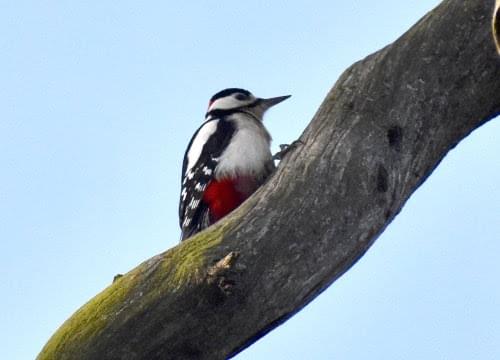 Also on my morning walk, a woodpecker was drumming in one of the old horse chestnut trees and making quite a noise. This is the great spotted woodpecker, and usually at least one pair each year, nests in the mature trees bordering the Green. So keep a lookout (and an ear!) for this lovely bird.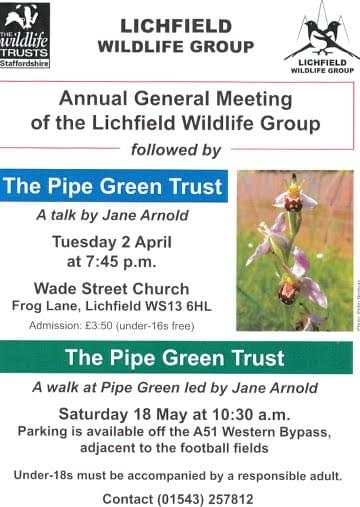 I am very excited to be giving a talk to the Lichfield Wildlife Group on the 2nd April at Wade Street Church about Pipe Green and the wildlife that it supports. The meeting starts at 7.45, with the Group's AGM and I will then give my talk at about 8.15ish. Everybody is welcome! This talk is then follwed by a walk on the Green on the 18th May.
February 2019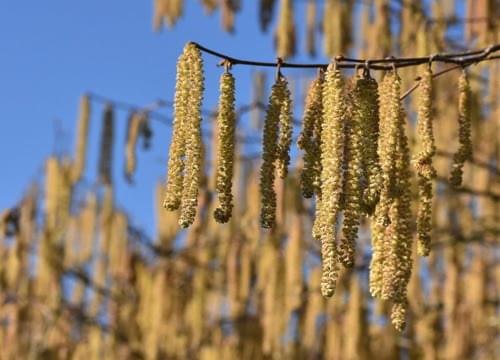 I know the warm weather of February seems a bit of a distant memory today, but it certainly bought the Green to life. There was an amazing amount of birdsong coming from the hedges and trees surrounding the Green and the catkins took on a glorious golden hue in the sunshine. The weather certainly was lovely whilst it lasted, but I think we are now back to reality!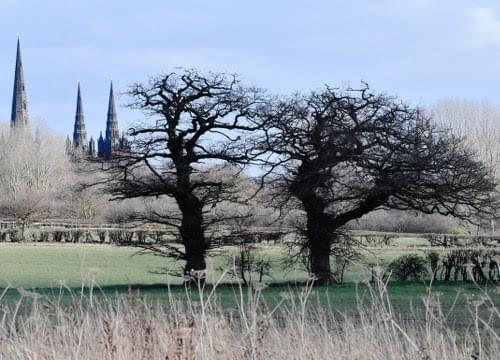 One advantage of winter, is that you can easily see the structure and the outline of the trees. There are two old(ish) oaks in one of the fields next to the Green, which have a fascinating outline, especially against the backdrop of the Cathedral. Oaks are incredibly important trees as they support a huge range of wildlife, including from insects, birds and mammals. I wonder what stories these two would have to tell!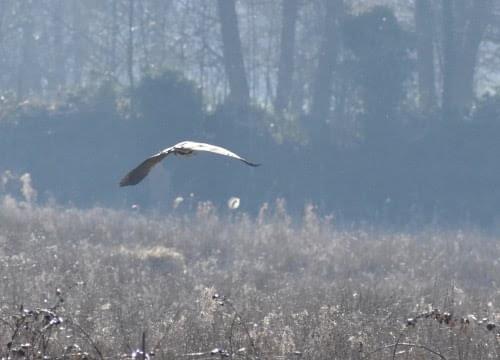 Sometimes you take a photo thinking "that will never work" but sometimes you can be suprised by the results! This happened to me the other day, when I disturbed a heron on the Green, who flew off into the sun. I grabbed my camera, pointed it in vaguely the right direction thinking "this will never work" but I was pleasantly suprised. I know it isn't the best photo I have ever taken, but it does have a certain atmosphere to it, which I like.
January 2019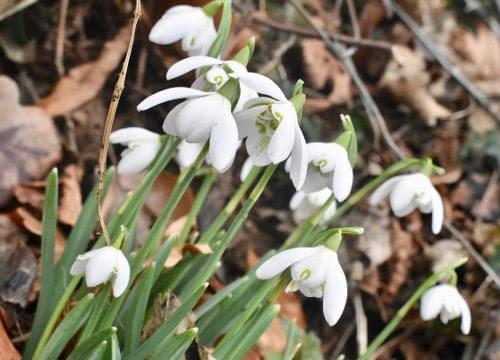 January has been a quiet month on the Green, with winter still retaining a grip on the wildlife. It is however heartening to see the patch of snowdrops come into flower near the Leomansley house end of the Green, meaning Spring is on its way!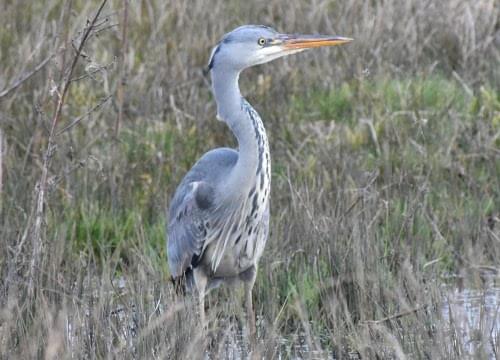 A recent visitor to the Green has been a heron, which I have been seeing almost on a daily basis. I don't know if it the same one I am seeing or a different one - they do tend to look pretty similar to me! I did get a lovely sighting of two of them standing on the grass near the stream, but unfortunately, on that occasion, I did not have my camera with me. However, returning the other day, armed with my camera, the heron was fairly obliging and happy to pose for me!