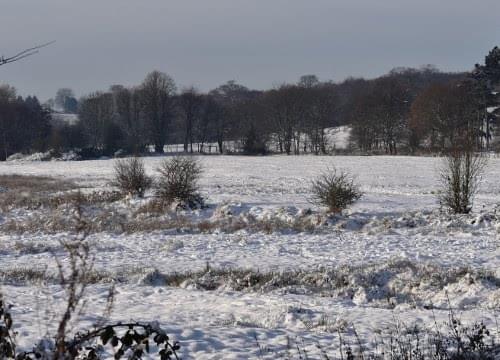 The snow that we had a few weeks ago, turned the Green into a winter wonderland and gave a very different feel to the place. Hopefully you managed to get across there and enjoy the views for yourselves.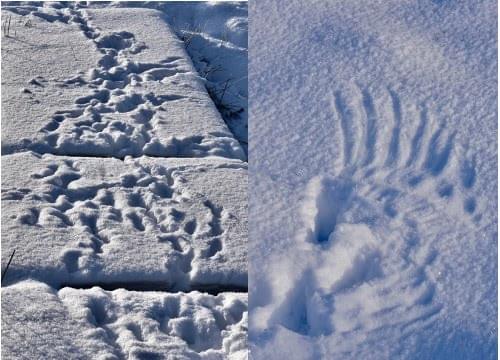 An advantage of the snow is that animal tracks could be seen and I spent a couple of very interesting hours walking around the Green looking for animal prints. Apart from the inevitable rabbit tracks, there were also a number of fox tracks. One fox had walked quite away along Leomansley Brook and made good use of the bridge! Another interesting print, was that of a bird wing in the snow. It is too small for an owl, but is quite likely to be from a kestrel hunting for mice and voles under the snow.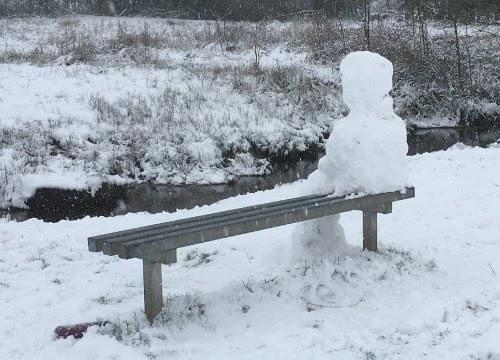 A rather unusual visitor to the Green was also spotted having a rest on the bench! Maybe he was looking out for the kingfisher that has recently been seen along that part of the brook. Finally just to wish everyone Season's greetings. Thank you for all your support over the year and I hope you continue to enjoy the Green in 2018!
November 2017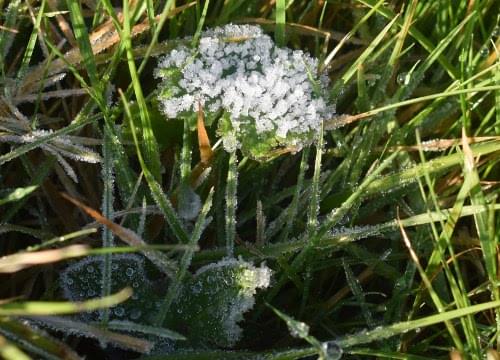 The last week of November has certainly been a cold one, with frosty but sunny mornings. The frost produces some beautiful images, which I tried to capture the other morning. Here, ice crystals have formed overnight on some of the plants. The crystals form when the temperature of the vegetation is lower than the freezing point of water. So whilst it looks lovely, it must have been a rather cold night on the Green!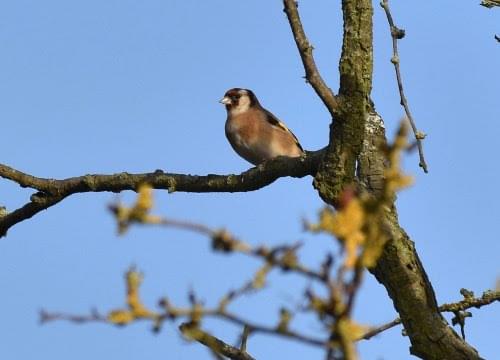 I also managed to photograph a goldfinch, that was obligingly sitting on a hawthorn branch, warming itself in the morning sun (normally they fly off the minute I get within photographic range!). Goldfinches can be seen all year round on the Green and are very sociable forming loose flocks. They like the hedges near the football field entrance, so keep an eye out for them next time you walk past.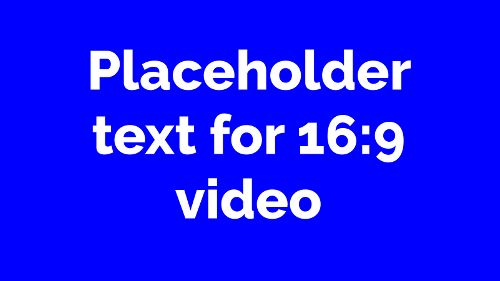 I haven't put the trail camera up for a while and thought it would be interesting to see if any animals were around. I was delighted with this footage of a fox, sniffing around for some food. Whilst I had put some food out, the magpies had got there first, so I am afraid the fox lost out! I did get some other animals on video, but I am trying to get better quality footage - so you will have to wait for the next instalment!
October 2017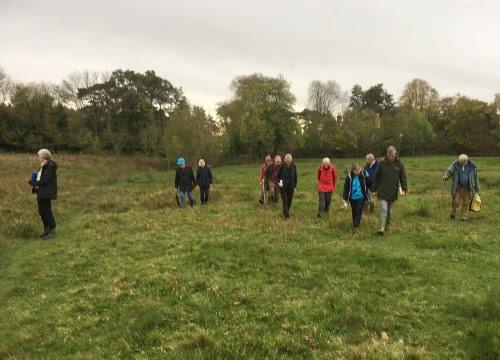 We have had quite a productive month, starting with a work party in early October, where we cleared the vegetation from a part of Leomansley brook. Following on from that, some of us cleared the bramble and vegetation from top end of the brook and strimmed some of the rush. A big thanks to all who helped out.
We also welcomed Lichfield Botany Group this month, who came for a guided walk of the Green. After a brief introduction on the history and management of Pipe Green, we spent a very enjoyable afternoon looking at what flora and fauna we have on the Green. In particular we spent a lot of time looking at the colourful waxcap fungi, which have been putting on a gorgeous display this Autumn. I love these bright coloured fungi and we are very lucky to have such a good selection of them. They form a very important habitat known as a waxcap grassland. More about this valuable habitat can be found here.
Above, is a composite of some of the waxcap fungi grassland species that I have managed to photograph on the Green this month. From top left in a clockwise direction we have:
A red waxcap fungi - probably hygrocybe coccinea.
Earthtoungue (from a family known as geoglossum). Whilst this might not look as impressive as a waxcap fungi, it is a very important species to have on the Green and very difficult to find!
Parrot waxcap - hygrocybe psittacina this starts off green and turns yellow with age. You can still see a bit of green on the cap.
Another red waxcap (couldn't resist another photo!)
Snowy waxcap - hygrocybe virgineus
Fairy club (from the family clavariacae). These have weird looking yellow spindles that peep out of the grass. It is amazing how many of these are growing on the Green - you just have to look carefully!
September 2017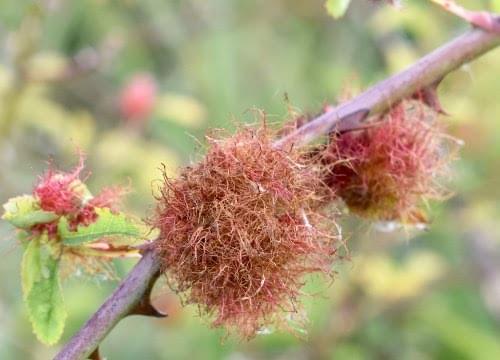 Whilst walking on the Green the other day, I noticed a dog rose which had a number of impressive growths on it. These are known as Robin's pincushion or the Bedeguar Gall. It is formed by a small gall wasp laying its eggs on developing leaf buds in the summer. The eggs hatch into larvae and these in turn secrete chemicals, which cause the gall to form. The larvae live in the gall as grubs and then over-winter as pupae, ready to emerge as adult gall wasps in the spring. What amazes me is how the chemicals secreted by the larvae cause these rather impressive reddish "pincushions" to grow, instead of a normal leaf!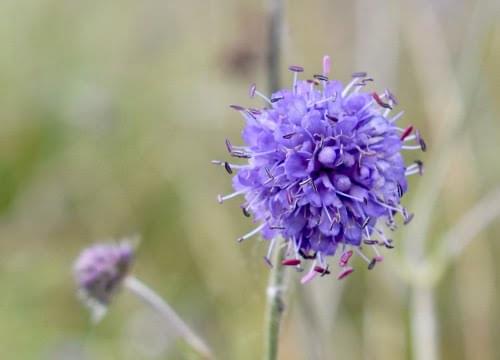 A late summer flowering plant that can be found on the Green, is the Devil's-bit scabious. These gorgeous purple pin cushion flowers are an important nectar source for late flying insects and most certainly when I took this photo a lot of bees were feeding on them. (I did try to take some photos with bees feeding, but it is harder than you might think!). I am very pleased that the devil's bit scabious is spreading, which is very good news indeed. They grow on the wet bit of the Green, so wellies are advisable, if you want to venture over to see them.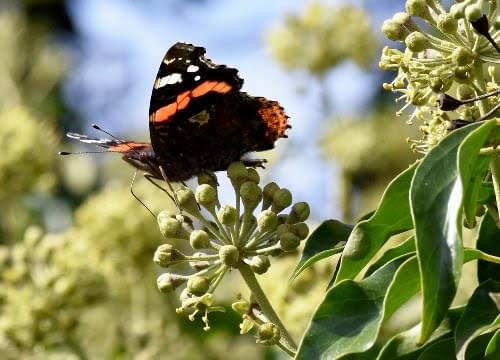 Another important nectar source for insect this time of year is the ivy flower. The ivy bush next to the football field gate has been absolutely covered with butterfly, all types of bees and hoverfly and there is a really loud buzzing sound as you walk past. So don't underestimate the humble ivy - it is very important for invertebrates this time of year! I have looked for the ivy bee, which feeds exclusively on ivy flower and was first recorded in the UK only in 2001 - so far I have not been successful.
August 2017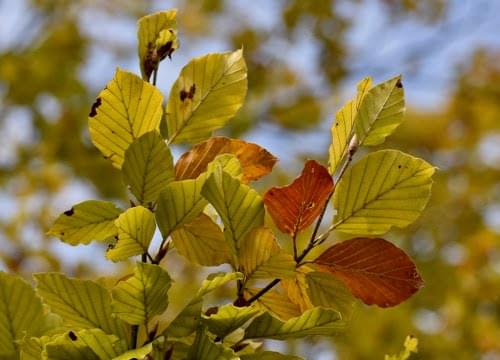 Well, Autumn is definitely showing signs of being just around the corner. Not only are the blackberries ripening on the bushes, but some of the trees are also starting to change colour. One of the earliest to put on an autumnal show, is the beech. As can be seen in the photo, most of the leaves are still yellow, although a few have already turned a lovely russet brown. For those of you that are interested, this colour change is due to the chlorophyll (that gives the leaf its green colour), dying back in Autumn. This allows other pigments (carotenoids), that are also present in the leaf, to become visible and give rise to the yellow colour. These yellow pigments then also die back, and the leaf becomes a rich coppery brown. Isn't nature wonderful?!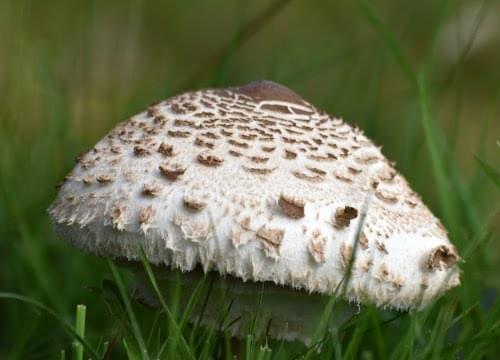 There are also a number of parasol mushrooms starting to appear and are very visible, due to their large size! As the name suggests, the cap, when fully open, can look like a parasol (well sort of!) and has dark brown scales, which can be clearly seen in the photo. Whilst these mushrooms are edible, I have just read that they can be confused with some poisonous ones, especially when they are not fully open - personally I think I will just leave them alone!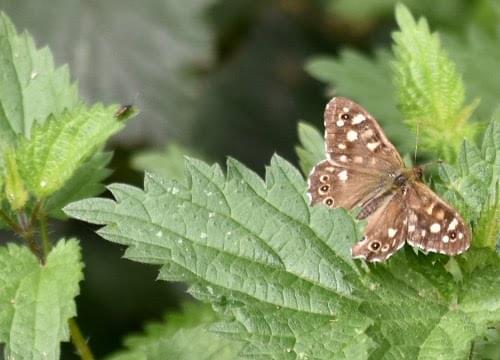 I saw this speckled wood butterfly resting on some nettle along the edge of the Green last week. I think it has seen better days, as some of the hind wing has been lost! They can be seen flying into early October, although I don't think this one will be so lucky! Another sign that Autumn is around the corner!
July 2017
As it has been the Big Butterfly Count, I thought it would be a good opportunity to get to grips with what butterfly species we have on the Green. So armed with camera and butterfly chart, I spent a very enjoyable sunny(!) morning looking and photographing the different species. What did suprise me was the number of not only butterfly, but hoverfly, and other creepy crawlies that were feeding and living on the numerous bramble bushes that we have on the Green. I know that we tend to be a bit dismissive of the humble blackberry bush, and it is necessary to keep it under control, but nevertheless, it did bring home to me that bramble is an important nectar source and home if you are an invertebrate! An interesting article, highlighting the importance of bramble can be found here. Above is a montage of some of the butterfly species that I saw.
So from the top row going left to right we have:
Large white butterfly - this (along with the small white butterfly) are often called a "cabbage white".
Comma butterfly - characteristic jagged wings and has a "comma" mark on the underside of the wing (which I didn't manage to photograph!).
Red admiral - a very colourful butterfly and easy to identify!
Bottom row going left to right:
Gatekeeper - you have to look a bit more carefully for this one, but there are loads on the blackberry bushes
Small white - another "cabbage white"
Meadow brown - this is the male and again you have to look a bit more carefully for these.
June 2017
Well, June has definitely been the month of the orchid! We have had a spectacular display this year, with four different species of orchids being identified and what is encouraging is that they are starting to spread over a wider area. We counted (with help from, Ruby Cooper, aged 7) approximately 120 specimens of early purple and common spotted orchids, which grown on the dryer part of the Green and are easily visible. There were also at least 60 southern marsh orchids, which, as the name suggests, grow in the boggy side of the Green. These are not so easy to find, mainly because they hide amongst the rush. I only found four bee orchids, although there could have been more, as I find them very difficult to find! Most of the orchids have now finished flowering (or been eaten by the cattle!), but I am hoping that some of the seed will germinate and that next year will be as good, if not better for the orchids! Below is a compilation of some of the beautiful specimens we have had this year.
May 2017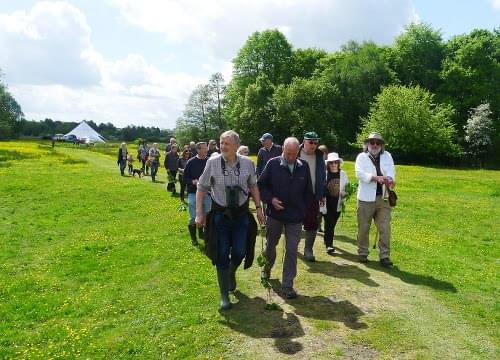 We had a lovely "Beating the Bounds" event on the 14th May. It was a glorious Spring day, which meant that the walk around the Green was very pleasant indeed. It was good to meet and talk to a whole lot of new people and reassuring to know that the Green is treasured by so many. A huge thanks to everyone who came to say hello and to the Trust members for organising this event. On our walk, we managed to see a range of different plants, but for me, the highlight of the walk, was seeing a nuthatch nest, with two very busy parents darting in and out of the nest, obviously feeding their young. Remarkably, not 10 feet away, on the same tree, a blue tit was doing exactly the same thing!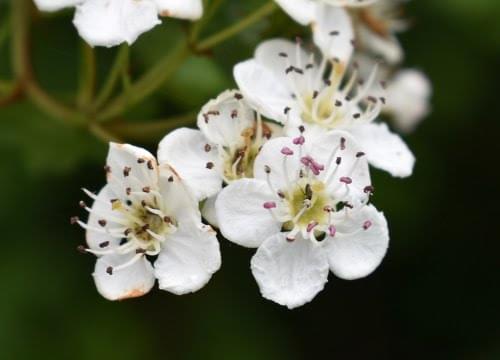 Looking at the hawthorn blossom in the boundary hedges of the Green this month, I can appreciate why hawthorn is often called "may flower"! Having taken some photographs of the blossom, I was suprised to see, upon a closer inspection, that some of the individual flowers contain both male and female reproductive organs. In other words it is hermaphrodite. This is beneficial to the tree, as insects only have to transfer the pollen a short distance from the male to the female parts of the flower. No wonder there are always so many haws in the Autumn!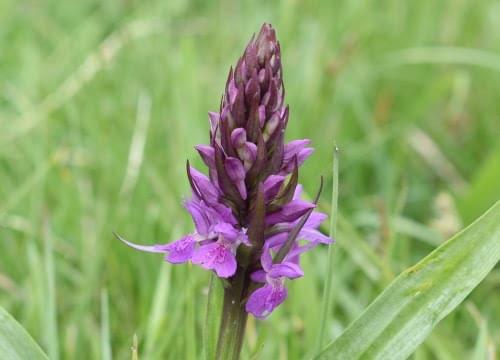 Other news from the Green this month, is that the grasshopper warbler is still about and has been heard singing from the rushes. The flowers in the sward are looking beautiful, not least the orchids, that are starting to flower this month. The cattle have recently been turned onto the Green and seem to be settling in well - I have only been followed once! Also to remind you that we are having our first work party on the 4th June - 10.00 - 12.00. We will be pulling some of the thistle (although there is not that much coming through at the moment) and cutting some of the nettle. More details of this and the dates for all our other work parties can be found on our Announcements page (24-Jun-2017).
April has been a very busy month and excitingly, we have a grasshopper warbler on the Green at the moment! I have never heard/seen one before, so I am thrilled that one has been around for the last 10 days. It maybe on migration or more excitingly maybe trying to breed on the Green. This bird is much easier heard than seen, as it has a very distinctive call, which sounds, yes, you have guessed it, like a grasshopper! You can hear the call by clicking on the widget below, which may take a few seconds to load:
Thanks to Kevin Lunham (sound recording) and Stefan Hage (photo) for sharing their work.
According to the West Midlands Bird Club there were only a few hundred sightings of this species in the whole of Staffordshire last year. So next time you are on the Green, just spend a few minutes listening for the grasshopper sound that is in fact a bird!
o/s andre add audio clip player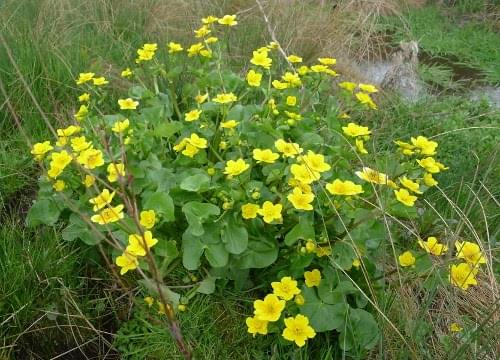 Another species that has not been seen on the Green for a number of years is the marsh marigold. This member of the buttercup family is also known as the kingcup. I am delighted that in April at least 5 large clumps of this striking plant were flowering near the stream. They are very easy to see, due to the bright yellow colour of their flowers, but if you want a close up view, then you will need a pair of wellies! Hopefully the conditions are now suitable to allow this plant to thrive.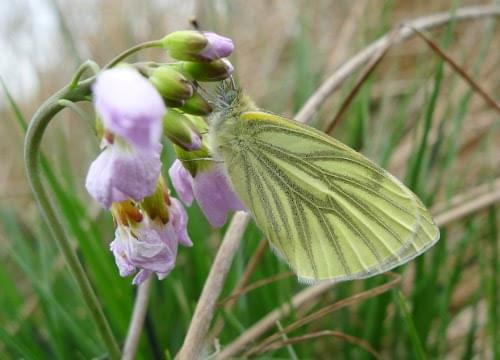 Another species that has not been seen on the Green for a number of years is the marsh marigold. This member of the buttercup family is also known as the kingcup. I am delighted that in April at least 5 large clumps of this striking plant were flowering near the stream. They are very easy to see, due to the bright yellow colour of their flowers, but if you want a close up view, then you will need a pair of wellies! Hopefully the conditions are now suitable to allow this plant to thrive.
March 2017
The little egret has now unfortunately left, but I hope he/she enjoyed the visit and I am sure ate quite a few frogs! Well, Spring is definitely here and the Green is looking beautiful at the moment and is well worth a visit. One of my favourite plants is the wood anemone, which is now flowering and I am delighted that see that it is spreading into the damper part of the Green. As I couldn't decide which photos to use for this month's post, I decided to make a composite picture of some of my favourites. I hope you enjoy them!
February 2017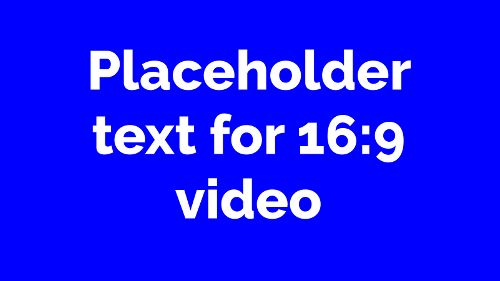 Some exciting news for this month — for most of February and almost on a daily basis, a little egret has been seen on the Green and in the surrounding fields! This is the first time that this species has been recorded on the Green and so it is extra special. Little egrets belong to the heron family and have a very distinctive white plumage, which makes it very easy to see when flying. I managed to get some footage of it on my trail camera, which, although not the best quality, gives some indication of what it looks like. These birds were first seen in the south of England in the early 1990s and since then have been moving northwards. I am not sure how common they are in this part of Staffordshire, but will be in touch with somebody to find out. In the meantime, I will try and get some better footage!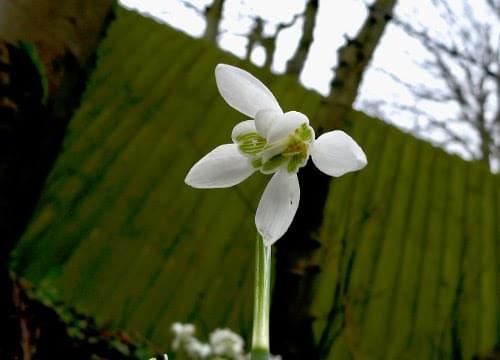 There is definitely a hint of spring in the air, (in between the cold, wet, horrible days) and the small clump of snowdrops on the edge of the Green are now flowering. These are a cultivated variety and not our native species (although I have just read that our "native" species probably came from Europe in the late eighteenth century and so probably are not "native" anyway!). These snowdrops always bring a smile to my face and you must admit, they are quite beautiful, on a closer inspection.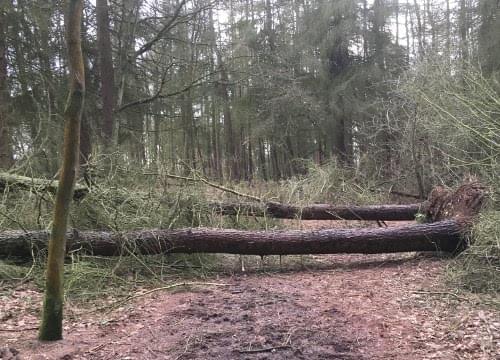 Fortunately storm Doris did not do much damage to the Green, but the same can not be said for Leomansley woods, where a number of large trees, as well as a lot of small ones, were blown down. Thank goodness I didn't go into the woods, that day! These large conifers are now blocking the path that runs through the wood and they certainly make an interesting obstacle course, when out on a dog walk!
January 2017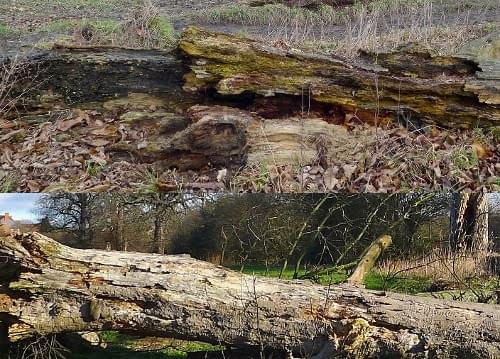 It has been five years since I started the monthly diary and sixty posts later, it is still going strong! In my first post of January 2012, I took a photo of one of the trees that had fallen down near the football field. The trunk is still there and what a difference five years make! A lot of the trunk has now rotted away and mosses and some small plants are growing on the trunk. The breakdown of wood is really interesting. A major component of wood is lignin, which is a very indigestible structure and is dependent on white rot fungus to break it down and release important nutrients for other organisms to use. What is fascinating, is that this white rot fungus was not around 350 million years ago, when the trees, that went on to form the coal beds, were growing. Some experts believe that the coal beds would not have formed had this little fungus been around then- what a different world we would live in if that had been the case!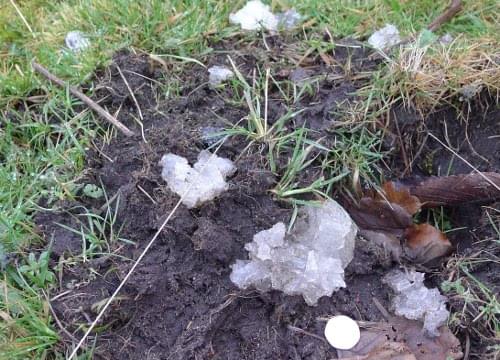 There have been some more jelly-like blobs appearing on the Green this month (last seen in January 2013). I contacted the Staffordshire Wildlife Trust, who confirmed that this is star jelly. It is likely to be unfertilised frog spawn from female frogs that have been predated by herons. There have been daily sightings of herons on the Green and there are lots of frogs around, so it is the most likely explanation!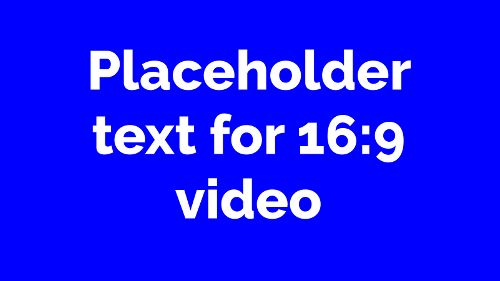 In the November post, I mentioned that there had been some badger activity in the vicinity of Pipe Green. Well, guess who I caught on camera a few weeks ago!