Invertebrates (species without a backbone) cover a wide range of different animals ranging from microscopic mites through to large colourful butterflies. Amazingly, it is estimated that 97% of all animals on Earth are invertebrates, with over a million different species having been described (compared to 60,000 vertebrate species). We don't know exactly how many invertebrate species live on the Green and only a small fraction will have been recorded. However below are some of the more obvious species that can be seen, including some of the beautiful butterflies, bees and dragonflies.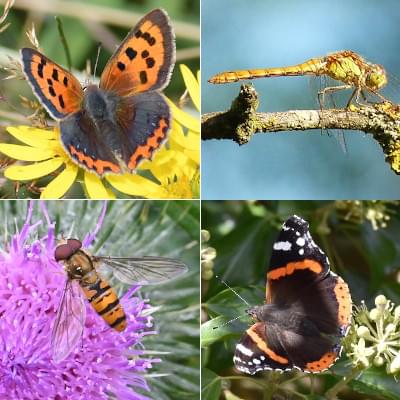 Butterflies
Summer on the Green would not be the same without butterflies flitting from bush to bush and if you are lucky, being able to appreciate their stunning wing patterns as they feed on some of the flower blossom. You may be surprised to know that 17 different species can be seen on the Green each summer and it is very rewarding to spend some time looking for and admiring these beautiful creatures. Click on the button below for details on some of the species you can see.
Dragonflies
Of the 30 or so species of dragonfly found in the UK, only a few have been recorded on the Green. This doesn't mean to say that more species aren't there, it is just that they are quite tricky to identify when flying and I most certainly am no expert! So please let us know if you see any. They are often found flying up and down the brook, or resting on some of the reeds near to open water. Click on the button below for a list of some of the dragonflies you may see (note that for convenience, damselflies have also been included in this list)
Bees and Hoverflies
With a wide variety of plants flowering from early Spring to late Autumn, the Green attracts a fair number of bees as well as a host of other insects. Hoverflies are also included in this list as many of them mimic the patterning of bees and at a casual glance are often misidentified as a bee - but as their name suggests, they are in fact a true fly. Click on the button below for a list of some of the species you might see.