We are fortunate that the Green is home to a wide range of plant species, due in part, to a variety of habitats being present. The drier side of the Green supports meadowland plant species, including grasses and some of the orchids, which thrive on the well drained and nutrient poor soils. The wetter side of the Green contains a very different range of plant species, including rushes and some sedges, as well as southern marsh orchids, all of which like to grow in a much damper environment.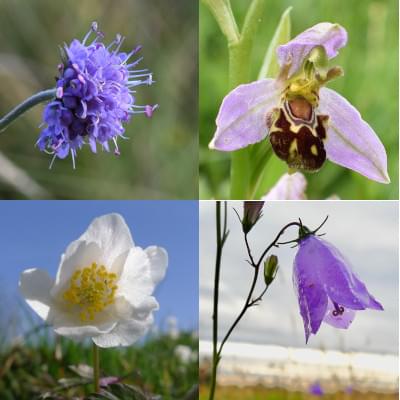 Grassland plants
In a recent survey, undertaken by the Staffordshire Wildlife Trust, 65 different plant species (including 16 types of grasses) were recorded on the meadow. It is therefore not surprising that this habitat is referred to as a "species rich grassland" and is of great ecological value. Click on the button below to see some (but not all 65!) of these plants.
Wetland plants
In the recent Staffordshire Wildlife Trust survey, over 75 plant species were recorded on the wet side of the Green. This high number emphasises the rich biodiversity of the fen-habitat, which in turn will support a range of invertebrate and vertebrate species. Click on the button below to see some of these plants.