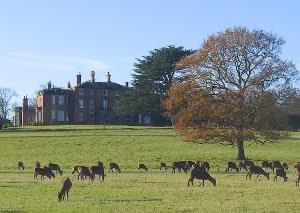 The northern edge of the Green lies adjacent to the land belonging to Maple Hayes. The Hall is now a dyslexia school and the present facade and size of building is due to extensions carried out by the Worthington family in the 1890s. The Trust has had a long association with Maple Hayes, which has not always been amicable!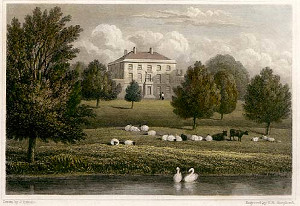 George Addams One of the original members of the Pipe Green Trust, was George Addams, who, when the Trust was formed in 1793, was living in the recently built Angel Croft on Beacon Street. He was a wine merchant and business must have been good as in 1786 he bought the farmhouse at Maple Hayes, which he demolished and built instead a Georgian manor house. An engraving of the house dating 1800 - 1840 is shown opposite. A description from 1802 states that the house had a hall, dining parlour, drawing room, breakfast parlour, kitchen and butler's pantry on the ground floor, five chambers on the first floor, and six attics (1). It is likely that Addams moved to this house in 1794 (one year after the trust was formed), but only lived there for 10 years as he died in 1804. Addams had an informal arrangement with the Pipe Green Trust, which allowed him to drive his carriage across the Green to access Maple Hayes. What the route of the track was or the nature of its surface, is not described, but from the accounts, it shows Addams was paying the Trust 5s per annum for this privilage. In addition, some of his men are recorded as doing some work on the Green.
John Atkinson: John Atkinson purchased Maple Hayes in 1804 and he wanted the road access across Pipe Green to be continued. A rather long and convoluted document (currently held in Lichfield Record Office) was drawn up describing this agreement, in which Atkinson would pay the Pipe Green Trust £2 2s per annum for this right. This is certainly a difference to the 5s that George Addams was paying! (I will get round to transcribing the document one day!)
Atkinson is quite an intriguing character. He was born in 1760 in Salford and married Anne Garnett (from Nantwich and daughter of George Garnett, a cheesefactor). They had seven children who were all born in Salford. I have yet to find out how Atkinson came by his wealth, although it is possible he was an early industrialist. He moved to Maple Hayes in 1804 and from then on he appears to be a country gentleman and an intellectual. He collected works of art, including paintings by Dura, Rembrandt and Joshua Reynolds and a delightful description of Maple Hayes and the Atkinson family is given in a book published in 1817:
"Here is a noble mansion, the residence of John Atkinson esq which overlooking the city and the venerable spires of its cathedral, commands one of the enchanting prospects that can be conceived. The grounds about it are laid out with great judgment and the internal arrangements are elegant and superb. It contains many choice paintings by the most esteemed ancient masters, and the proprietor is likewise happy in possessing a family equally remarkable for superior intellectual and personal accomplishments" (2)
Atkinson must have been highly thought of as he became the High Sheriff of Staffordshire in 1828. Of the seven children, one daughter, Caroline, died aged 16 at Maple Hayes but two of her sisters went onto marry into wealthy families. Louisa, (b 1801) married Sir William Amcotts Ingilby, (an eccentric baronet, who inherited Ripley Castle) and Henrietta married Thomas Wentworth Beaumont, who although a commoner, was very rich and bought in the early 1800s, Byewell Hall in Northumberland for the hefty sum of £145,000 (a lot of money in those days!). Atkinson died at Byewell Hall in 1843 at the ripe old age of 84!
One of the first recorded frictions between Maple Hayes and the Trust occurred in 1827, when Atkinson took some of the land on Pipe Green to use as a watering place for his animals. The Trust were not impressed with this encroachment, as is evident from the AGM of 1827.
"Whereas John Atkinson of Maple Hayes in the County of Stafford Esquire hath made an encroachment upon Pipe Green aforesaid by fixing stumps and rails thereon for the purpose of making a watering place for his cattle. It is therefore ordered and agreed that the said John Atkinson shall and do forthwith pay unto our Treasurer for the time being the sum of sixpence yearly and every year as an acknowledgement for the same so long as the said encroachment shall be suffered to remain and on refusal or nonpayment thereof to throw out the said encroachment unless he shall in the meantime pay the said acknowledgement yearly and every year aforesaid."(3)
It seems that Atkinson went along with the extra charge, as from the accounts he starts paying £2 2s 6d per annum!
---
Footnotes:
L.J.R.O., D. 88, sale partics. of estates near Lichfield 1802.
History and Antiquities of the Cathedral churches of Great Britain Vol III by James Sargant Storer, Henry Sargant Storer. 1817
From the Accounts of the Pipe Green Trust, LJRO D45/16
Images
Maple Hayes Hall from the pond to the south west, c1830 – Courtesy of Wikipedia. This image is in the public domain. Engraved by T.H. Shepherd. Original William Salt Library.
---
Also see talk given by Joss Musgrove Knibb, Deputy Editor of the Lichfield Gazette, The History and Associations of Maple Hayes Hall, to the Lichfield Civic Society in October 2013.